Fiber optic pigtail provides a fast way to make communication devices in the field. It is designed, manufactured, and tested according to protocol and performance dictated by industrial standards, which will meet your most stringent mechanical and performance specifications. This article provides some basic knowledge of fiber optic pigtails.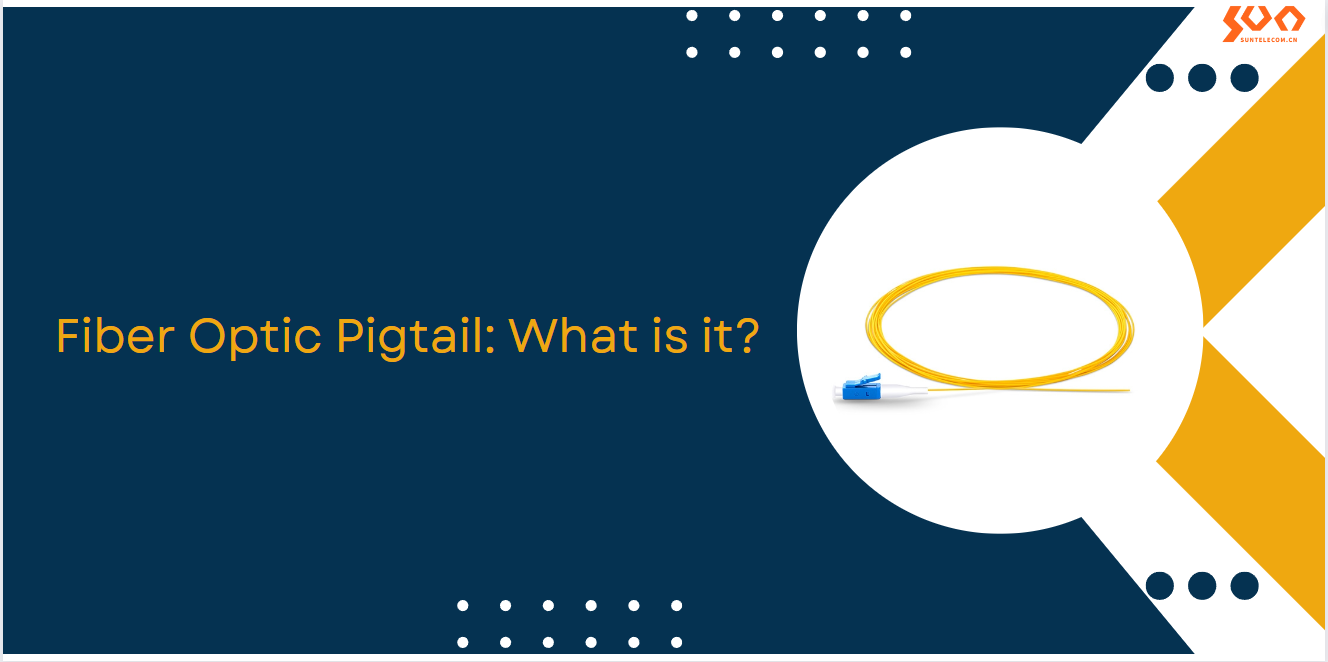 What is a Fiber Optic Pigtail?
A fiber optic pigtail is a single, short, usually tight-buffered fiber optic cable with a factory-installed connector on one end, and un-terminated fiber on the other end.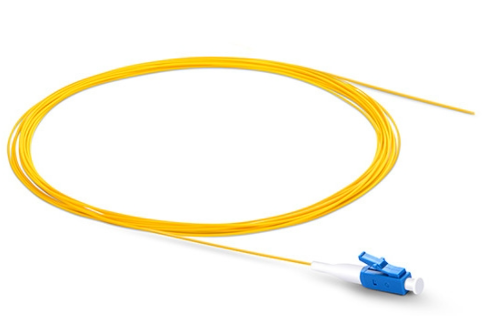 A fiber optic pigtail is used to terminate fiber optic cables via mechanical or fusion splicing. The end of the pigtail is stripped and fusion spliced to a single fiber or a multi-fiber trunk. The pigtail is spliced to each fiber in the trunk and "breaks out" the multi-fiber cable into its component fibers for connection to the end equipment.


Fiber Optic Pigtail Types
Fiber optic pigtail is available in several types: fiber, connector, fiber count, and application environment.
Fiber optic pigtails can be divided into single-mode (SM) and multi-mode (MM) fiber. SM fiber optic pigtail uses a 9/125 micron SM fiber cable and is terminated with SM fiber connectors at one end.SM fiber pigtail is available in OS1 and OS2 types. While MM fiber optic pigtail uses 62.5/125 micron or 50/125-micron bulk MM fiber optic cable and is terminated with MM fiber optic connectors at one end. MM fiber optic pigtail is available in OM1, OM2, OM3, and OM4 types.

Connector Type
Fiber optic pigtail connector types are LC, SC, ST, FC, MT-RJ, MU, E2000, etc.
LC fiber optic pigtail: Uses the LC connector developed by Lucent Company and the 1.25mm ceramic ferrule.
SC fiber optic pigtail: SC pigtail connector is a non-optical disconnect connector with a 2.5mm pre-radiused zirconia or stainless alloy ferrule.
ST fiber optic pigtail: ST pigtail connector has a long 2.5mm diameter ferrule made of ceramic (zirconia), stainless alloy, or plastic.
FC fiber optic pigtail: FC fiber pigtail has the metallic body of FC connectors, featuring the screw type structure and high precision ceramic ferrules.
MTRJ fiber optic pigtail: Is made of a duplex precision molded MT ferrule connector.
MU fiber optic pigtail : Is a push-pull style small form connector with 1.25 outer diameter ferrules.
E2000 fiber optic pigtail: Has a secure transmission of high bit-rate protocols, zirconia ceramic ferrule fully protected by the spring-loaded shutter, a push-pull locking mechanism for easy installation, and color-coded release levers.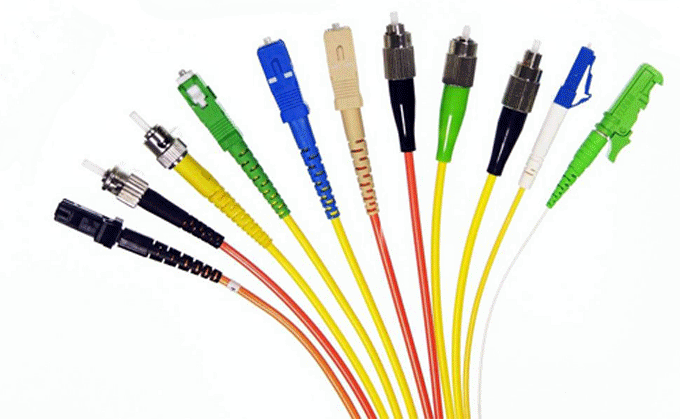 Fiber Count Type
A Simplex fiber optic pigtail has one fiber and a connector on one end. A duplex fiber optic pigtail has two fibers and two connectors on one end. Each fiber is marked "A" or "B" or different colored connector boots are used to mark polarity. Fiber optic pigtails have 1, 2, 4, 6, 8, 12, 24, and 48-strand fiber counts.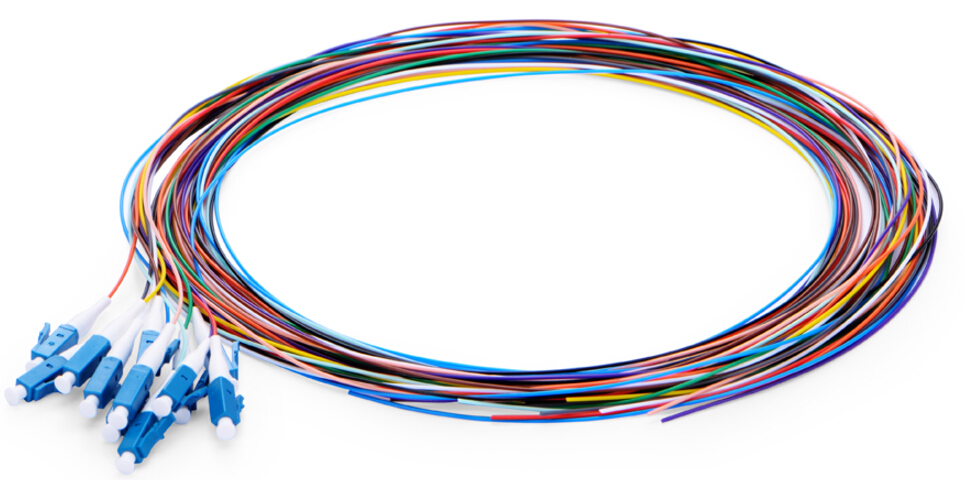 Application Environment Type
A bundle fiber optic pigtail is a multi-core pigtail and has a connector at one end and a broken end of the fiber at the other end. It is connected to the core of other fiber optic cables by fusion.
The ribbon fiber optic pigtail is a multi-core pigtail and contains 12-core fiber. One end is used for fusion splicing and the other end is equipped with a connector.
The armored fiber optic pigtail is enclosed with stainless steel tube inside the outer jacket and provides extra protection to prevent damage caused by rodents, construction work, and the weight of other cables.
The waterproof fiber optic pigtail is designed with a stainless steel strengthened waterproof unit and armored outdoor polyethylene (PE) jacket, waterproof fiber pigtail, and is suitable for harsh environments.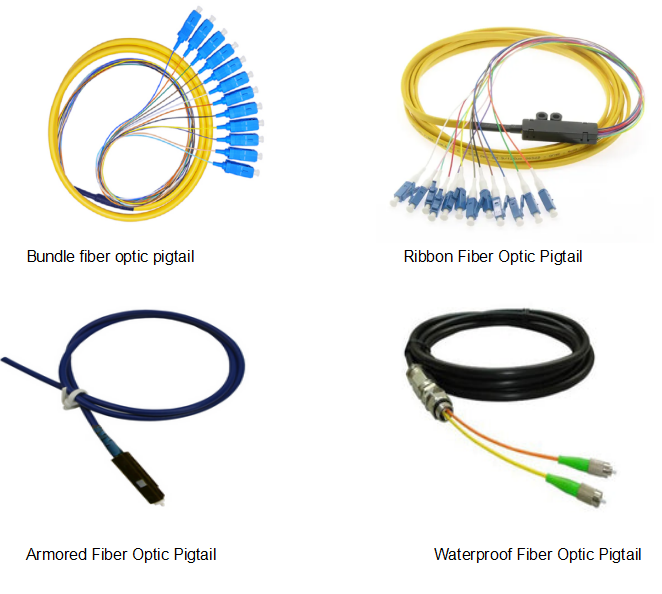 Features and Benefits
Fiber optic pigtail provides high reliability, high adaptability, good repeatability, high density, high return loss,high temperature stability , low insertion loss, lower labor costs, and easy to install.

Applications
The fiber optic pigtail is used in ODF, fiber terminal box, distribution box, CATV networks, telecommunication networks, data centers, FTTx networks, FTTH, local area networks (LAN), wide area networks (WAN), optical access networks, test equipment, industry, medical, sensor, etc.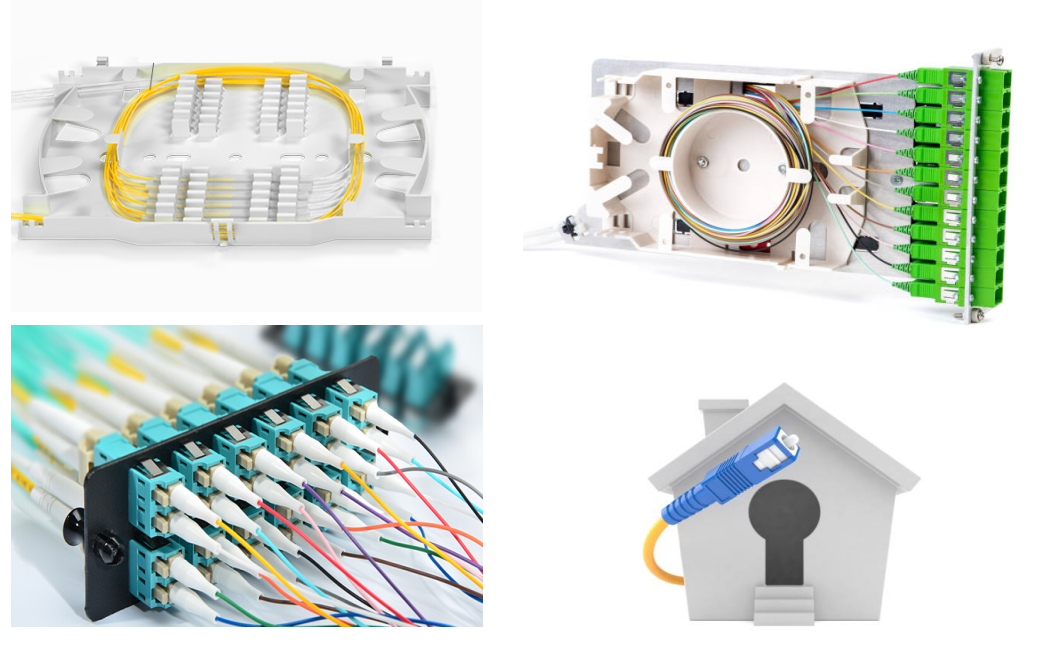 Conclusion
Fiber optic pigtail provides interconnection and cross-interconnection applications in the network connection of access equipment. Also, it provides a feasible and more reliable solution for easier fiber termination, saving operating time and labor costs. Sun Telecom provides a wide variety of fiber optic pigtails. Contact us if you have any needs.