A fiber optic connector is a flexible device that can connect and disconnect fiber optic cable quickly. It offers high reliability, high return loss, low insertion loss, excellent interchangeability, and repeatability. This article will discuss fiber optic connectors and their types and applications.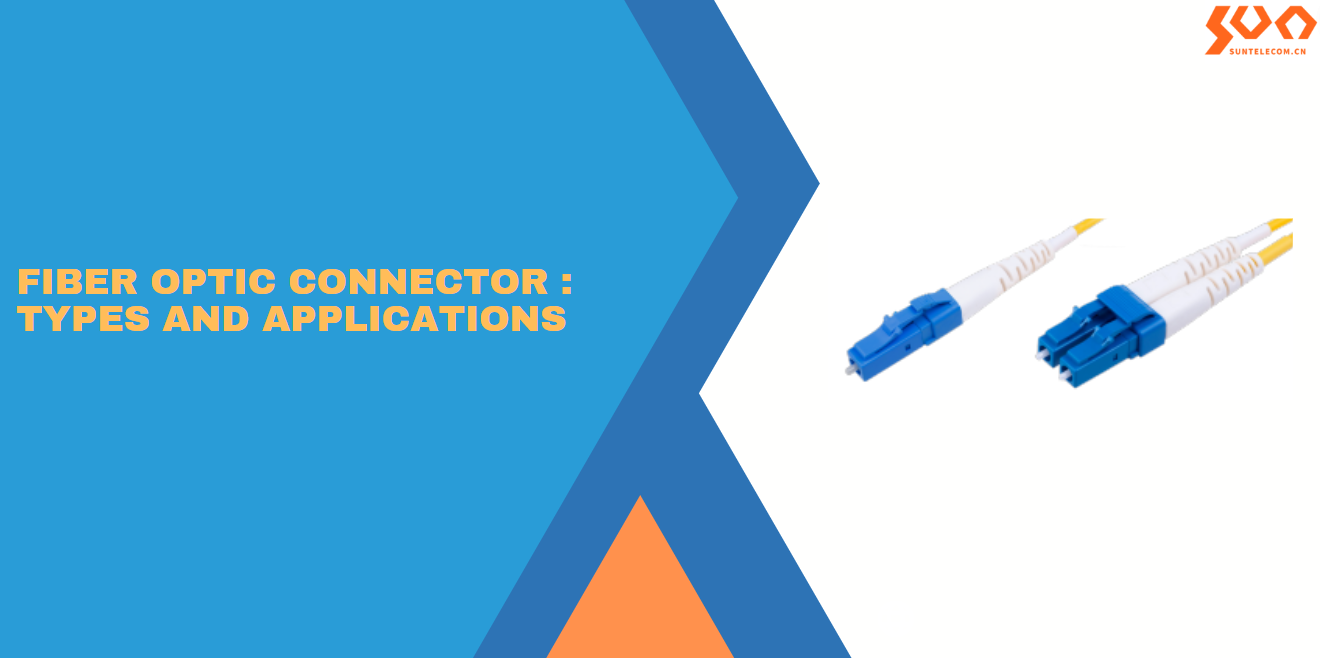 What is Fiber Optic Connector?
A fiber optic connector is a component to terminate the end of a fiber optic cable and enables quicker connection and disconnection than fiber splicing. It needs to be aligned properly to the microscopic glass fibers completely to allocate for communication. In addition, fiber optic connector provides high reliability, high return loss, high precision alignment, low insertion loss, excellent interchangeability and repeatability, and ease to use.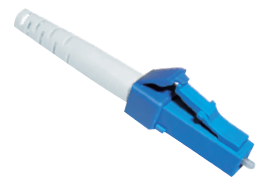 Fiber Optic Connector Components
Fiber optic connector consists of five components: fiber ferrule, connector sub-assembly body, connector housing, fiber cable, and stress relief boot. Below shows figure an example of an SC fiber optic connector structure.
Fiber Ferrule : The SC fiber optic connector is built around a long cylindrical 2.5mm diameter ferrule, made of ceramic (zirconia) or metal (stainless alloy). A 124um-127um diameter high precision hole is drilled in the center of the ferrule, where stripped bare fiber is inserted through and usually bonded by epoxy or adhesive. The end of the fiber is at the end of the ferrule, where it is typically polished smooth.
Connector Sub-assembly Body: The ferrule is assembled in the SC sub-assembly body, which has mechanisms to hold the cable and fiber in place. The end of the ferrule is out of the sub-assembly body to mate with another SC connector inside a mating sleeve (i.e. adapter).
Connector Housing : The connector housing covers the connector sub-assembly body, which provides the mechanism for snapping into a mating sleeve (adapter) and holding the connector in place.
Fiber Cable : Fiber cable and strength member (aramid yarn or Kevlar) are crimped onto the connector sub-assembly body with a crimp eyelet. This provides the strength for the mechanical handling of the connector without putting stress on the fiber itself.
Stress Relief Boot : Stress relief boot covers the joint between the connector body and the fiber optic cable and protects the fiber optic cable from mechanical damage. Stress relief boot designs are different for 900um tight-buffered fiber and 1.6mm-3mm fiber optic cable.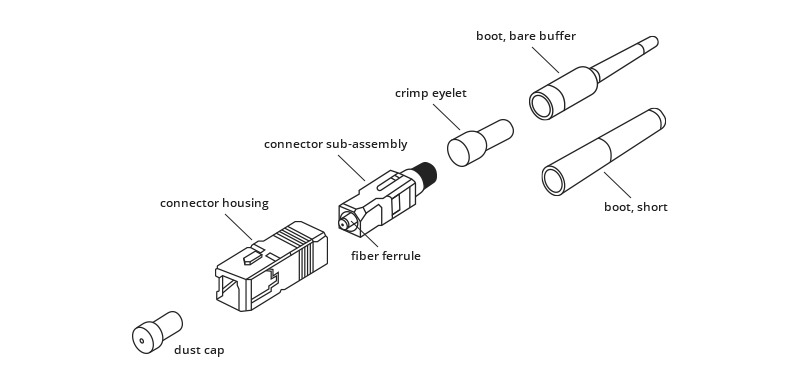 Fiber Optic Connector Types
Generally speaking, fiber cable connector types can be classified according to fiber mode, fiber count, polish, utilization and industrial.
Fiber Mode: Single-Mode and Multi-mode Fiber Optic Connectors
Single-mode (SM) fiber enables one type of light mode to be propagated at a time, while multi-mode (MM) fiber can propagate multiple modes at a time.
Fiber Count: Simplex and Duplex Fiber Optic Connectors
A simplex fiber optic connector allows data to be transmitted in one direction, while a duplex fiber optic connector allows data to be simultaneously transmitted in both directions.


Polish: PC, UPC and APC Fiber Optic Connectors
PC (physical contact ), UPC (Ultra Physical Contact), and APC (Angled Physical Connect) refer to the polish styles of the ferrules inside the fiber optic connectors. The color code provides a convenient method to identify these three types of connectors: the PC's color code is black, the color code for the APC fiber connector is green, and the UPC's connector is blue. The structure and the performance of the three fiber optic connectors also vary, which reflects the values of insertion loss and return loss.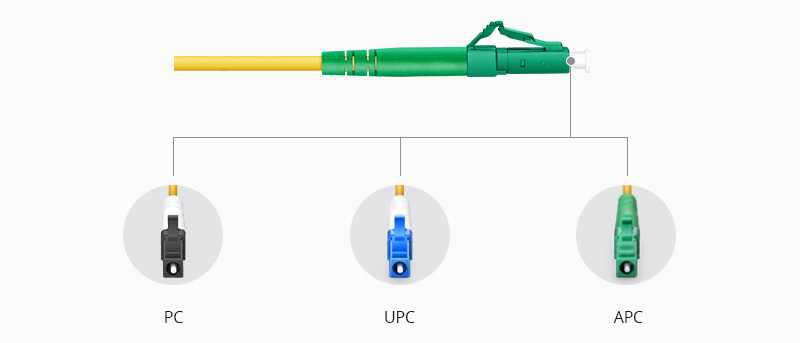 Utilization: LC,SC, MTP/MPO, ST, and FC Fiber Optic Connectors
A Lucent Connector (LC), as one SFF (small form factor) connector, has a 1.25 mm ferrule. Square Connector (SC) adopts a 2.5mm ferrule, which is twice the size of the previous LC connector. MTP/MPO connector is a multi-fiber connector and larger than other connectors, which combines fibers from 12 to 24 fibers in a single rectangular ferrule. Straight tip (ST) connector holds the fiber with a ceramic, spring-loaded 2.5mm ferrule that stays in place with a half-twist bayonet mount. Ferrule connector (FC) uses a round screw-type fitment made from nickel-plated or stainless steel. The FC connector end face depends on an alignment key for correct insertion and is then tightened into the adaptor/jack using a threaded collect.



Industrial : Q-RMC and NEX10 Fiber Optic Connectors
Rosenberger multifiber connector (Q-RMC) is designed with a metal casing that incorporates a quick insertion mechanism, works without any tools, and enables quick connection or quick disassembly during installation or maintenance.
Rosenberger NEX10 connector is designed for outdoor harsh environments, it is characterized by a compact size waterproof, dust-proof, and anti-corrosion. It supports screw locking and a push-pull locking mechanism. The push-pull quick lock helps in achieving solid installation and easy removal without any tools.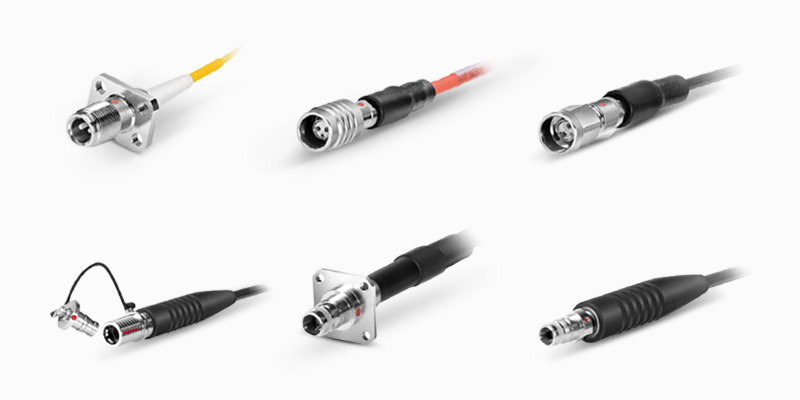 Applications
Fiber optic connector is widely used in telecommunications, data centers, FTTx networks, local area networks (LAN), metro area networks (MAN), CATV, CCTV, oil & gas, military & aerospace, medical application, railway, fiber optic patch cord, Pigtail, FTTA, 5G, etc.

Conclusion
The differences between types of fiber optic connectors are easy to be neglected in complicated fiber installments. However, taking the time to select the right one can deliver substantial benefits, which saves you time and cost. Sun Telecom supplies a wide variety of fiber optic connectors. Contact us if you have any needs.