Benefits
The solution for carrying passive WDM in 5G front-haul/back-haul has the including benefits: high bandwidth, high reliability, cost-effective for low CPRI rates, low latency, low insertion loss, low cost, significant saving of fibers with optional channels of 4/6/8/12/18/24/48, plug and play, easy to install and deploy, and simple maintenance.

Application Scenarios
Passive WDM applies to the end point-to-point C-RAN network scenario, and in the area where fiber optic is scarce, there are no pipeline resources. Furthermore, the potential application scenarios for passive WDM included: 5G front-haul/back-haul, Oil & Gas, Industrial, Power, Mining, CATV, FTTX, PON, etc.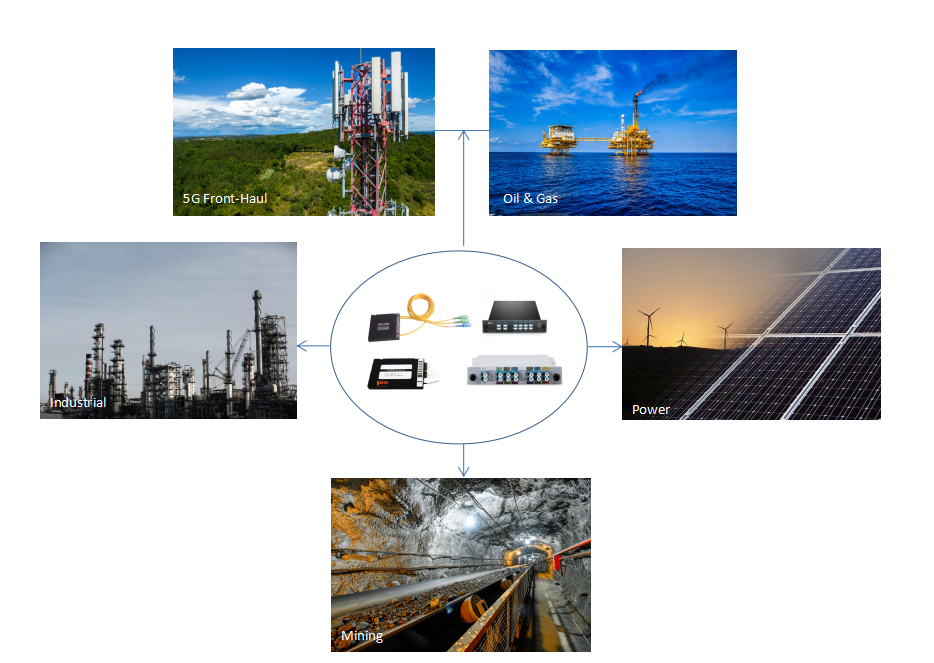 Different Passive WDM Solutions
Passive WDM solutions include CWDM, DWDM, MWDM, and LWDM.
(1)CWDM
CWDM uses wavelength multiplexing technology, with the benefits of high bandwidth, high channel isolation, low temperature sensitivity ,and low cost. It enables operators to transmit up to 18 channels over one pair of fiber.

(2)DWDM
DWDM is a cost-effective solution equipped with the electro-absorption modulated laser (EML). It offers high reliability and stability, high channel isolation,high bandwidth low insertion loss, and less complexity.

(3)MWDM
MWDM emphasizes the first 6 wavelengths of CWDM, compresses the 20nm wavelength interval of CWDM to 7nm, and uses thermal electronic cooler (TEC) temperature control technology to expand 1 wave into 2 waves. In this way, an increase in capacity can be achieved while further saving fiber resources.

(4)LWDM
LWDM is based on the Ethernet channel wavelength division multiplexing (LAN WDM).Its channel interval is 200~800GHz, this range is between DWDM (100GHz, 50GHz) and CWDM (about 3THz). LWDM offers high reliability and stability,high channel isolation, and low insertion loss. Furthermore, LWDM can support 12-wave 25G to increase the capacity and save fiber.

An additional passive WDM solution applied in 5G front-haul is WDM-PON.
Wavelength division multiplexing-passive optical network (WDM-PON) uses multiple different wavelengths over a physical point-to-multipoint fiber infrastructure. WDM-PON can expand the capacity of a single fiber by achieving 1310/1490/1550nm bidirectional communication over one fiber, to save fiber resources. It offers high reliability, high bandwidth, high channel isolation, low latency, low insertion loss, plug-and-play ONU(optical network unit), and simple operation and maintenance (O&M).

Conclusion
Passive WDM can significantly help the 5G front-haul/back-haul challenge issue by saving fiber resources and reducing costs. Passive WDM can bear every rate of 10G,25G,40G, and 100G. In addition, passive WDM provided great benefits like high bandwidth, high channel isolation, low latency, low insertion loss, simple maintenance, easy deployment, and more.