As we know, harness cables are generally used to connect high-density switches with LC serial transceivers installed. The transition harness connects to the pre-installed MTP backbone trunk cable and then furcates to LC connectors entering the switch. This kind of MTP-LC Harness Cables are usually supplied in short lengths because they are normally only used for "in-rack" connections. Transition harnesses are available for Base-8, 12 and 24 backbones and the LC tails are numbered for clear port identification and traceability.

Application Scene

Another harness cable type is Conversion Harness Cable, which allow users to convert their existing MTP backbone cables to an MTP type which matches their active equipment. Conversion harnesses are a low-loss alternative to conversion modules because they eliminate one mated MTP pair across the link. Many of today's legacy infrastructures are built using a Base-12 MTP backbone design, however experience shows us that this connector is rarely used on higher data rate switches or servers. Currently Base-8 is the preferred connector for 40G (SR4) transceivers and Base-24 is the preferred connector for 100G transceivers (SR10).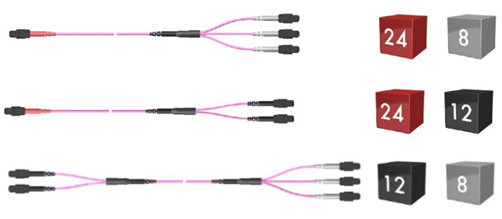 The final type of harness cable is MTP Trunk Harness Cable. MTP trunk harness cables are high density multi-stranded cables which form the backbone of the data center. This kind of trunk harness cables are available in different fiber-counts up to 144 fibers, which reduce the installation time by consolidating multiple sub-units into a single cable. This approach significantly reduces the overall diameter of the cable and provides much better space utilization of cable routing channels. Just as two types harness cables mentioned, the MTP trunk harness cables are also available with 8, 12 and 24 fiber sub-units so that users can deploy Base-8, Base-12 or Base-24 infrastructures to suit their MTP connectivity requirements.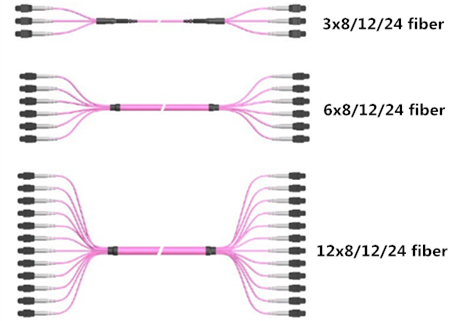 Conversion and Trunk Harness Cable Application