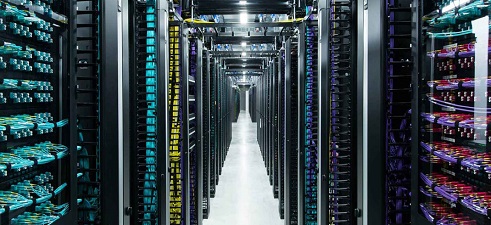 Data centers are nothing mysterious in this information era: they serve as the metropolises of the computing world. Just like cities, they change over time – to higher density, larger capacity and more mature performance.
When 40G/100G network has become an irresistible tendency, which also brings the quest for greater bandwidth and higher density optical connectivity – the increased port density, therefore, drives escalating power consumption. The following chart indicates the proportion of Ethernet ports over the years. So if it's possible to reach a balance between high capacity and low power consumption? – MTP/MPO technology makes this challenge viable by offering a constructive and reliable solution. Let's dive a bit deep into the center of this technology.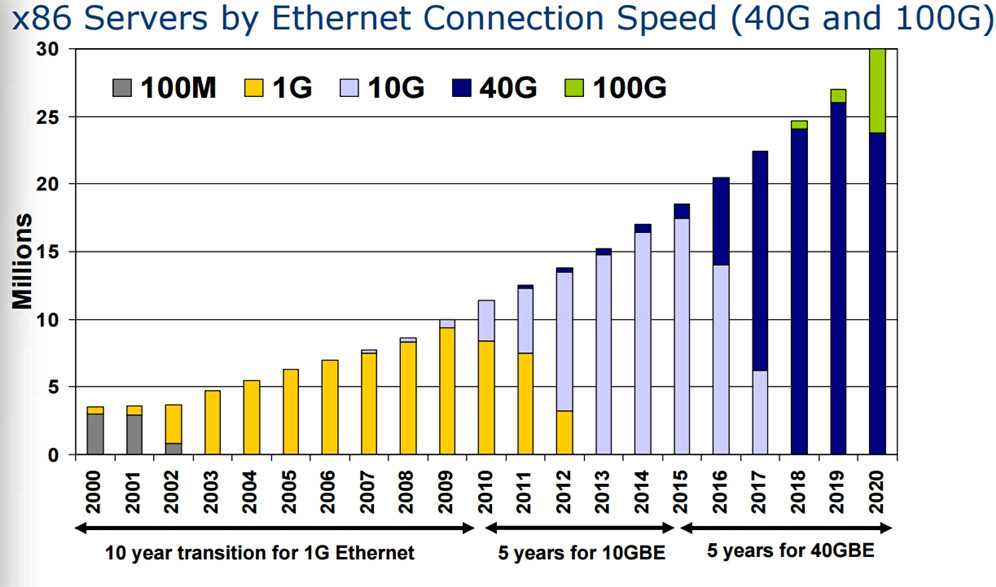 A Closer Look at MTP/MPO Technology: The Trend of Data Center
Data centers have an unceasingly demand for bandwidth, yet the best way to satisfy this appetite is to keep the proliferation of fiber connection and to build ever-faster links. MTP/MPO assemblies have become the default cabling solution in data center: they are a natural fit for parallel optics. At the heart of every MTP/MPO assembly lies the MTP/MPO connector, which utilizes multiple fibers to realize optical transmission. The fibers can transmit and receive data simultaneously, which dramatically enhance the network speed and performance.
The following picture takes 40G link for example to show how to achieve parallel transmission.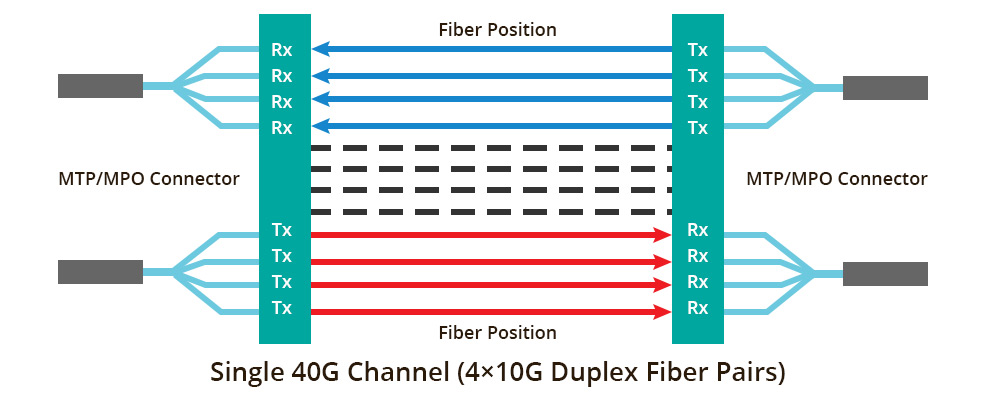 MTP/MPO fiber links are compact, pre-terminated, able to handle massive bandwidth (up to 100G) and even plug and play by design. MTP/MPO technology emerges to accommodate higher volume of connectors within ever-tighter space constraints. It significantly reduces the amount of time, effort, and space required to install and deploy network. Meanwhile the future updates, additions, and changes to the structured cabling are also simplified. The fiber density made MTP/MPO cabling a perfect fit for data centers with serious space constraints and massive cables.
How Does Data Center Embrace MTP/MPO Technology?
As the need for bandwidth increased, the industry began moving toward networks and cabling with higher fiber densities – 40/100G for the time being. MTP/MPO cabling paves the way for establishing high-performance networks in data centers. And it also makes scaling and migration to 40/100G network easier and more efficient. Even your IT rack would become more physically appealing with simplified plug-and-play MTP/MPO cabling.
Pre-terminated MTP/MPO Cabling for Network Upgrade and Integration
There is the time when 10G makes the major building block of data centers, that means most data centers nowadays still have massive legacy 10G devices. When migrating to higher-speed 40/100G, MTP/MPO harness cables are necessities. Also known as MTP-LC breakout cable, it has a single MTP connector on one end that breaks out into 6 or 12 LC connectors, providing a transition from multi-fiber cables to individual fibers or duplex connectors.
MTP/MPO Adapter Panel and Cassettes Make Organized Rack Cabling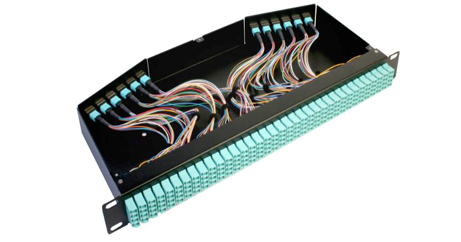 Cable clutter is a common yet unsettling challenge facing nearly all network managers. It is consulting to the eyes while also impede your ability to troubleshoot problems. MTP/MPO fiber adapter panel is designed to solve this when used for cross connects in MDA, HAD and EDA. MTP/MPO fiber adapter panel ensures efficient use of space, quick deployment and the highest reliability for the lowest installed cost.