Traditional optical cabling solutions such as duplex patch cords and duplex connector assemblies work well in application-specific, low-port-count environments. But as port counts scale upwards and system equipment turnover accelerates, these solutions become unmanageable and unreliable.
Deploying a modular, high-density, MTP-based structured wired cabling system in the data center will significantly increase response to data center moves, adds and changes (MACs). Knowledge of MTP modules and MTP harnesses will be provided in this blog.
Introduction to MTP Modules and Harnesses
An obvious benefit to deploying a MTP-based optical network is its flexibility to transmit both serial and parallel signals. MTP to duplex connector transition devices such as modules and harnesses are plugged into the MTP trunk assemblies for serial communication. MTP Modules are typically used in lower-portcount break-out applications such as in server cabinets. MTP harnesses provide a significant increase in cabling density and find value in high port count break-out situations such as SAN Directors. The built-in modularity of the solution provides flexibility to easily configure and reconfigure the cabling infrastructure to meet current and future networking requirements. MTP harnesses and modules can be exchanged or completely removed from the backbone network to quickly adapt to data center MACs.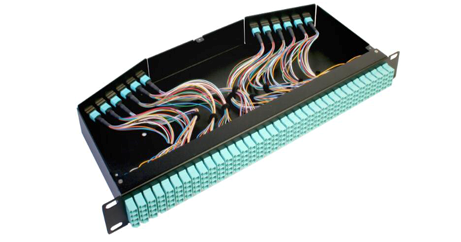 MTP Modules in Data Centers
MTP modules typically are placed in a housing located in the cabinet rack unit space. Here the MTP trunk cable is plugged into the back of the module. Duplex patch cords are plugged into the front of the module and routed to system equipment ports. Integrating the MTP modules cabling solution into the data center cabinet can enhance the deployment and operation of the data center cabling infrastructure. As shown in figure below, integrating the MTP modules into the cabinet vertical manager space maximizes the rack unit space available for data center electronics. MTP modules are moved to the cabinet sides where they snap into brackets placed between the cabinet frame and side panel.
Properly engineered solutions will allow MTP modules to be aligned with low-port-count system equipment placed within the cabinet rack unit space to best facilitate patch cord routing.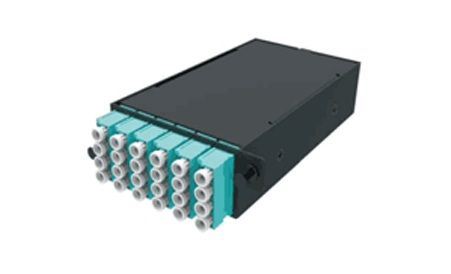 MTP Harnesses in Data Centers
MTP harnesses are plugged into the backbone MTP trunk assemblies through a MTP adapter panel. The MTP adapter panel is placed in a housing that is also typically located in the cabinet rack unit space. These MTP harnesses are pre-engineered to a precise length with strict tolerances to minimize slack, while a small outside diameter allows for easy routing without preferential bend concerns. With a pre-engineered cabling solution, not only is installation simplified, but the time required for SAN design and documentation is greatly reduced with port mapping architecture inherent to the design.
The move from the traditional low-density duplex patch cord or assembly cabling solution to a high-density MTP modules and harnesses cabling solution integrated into the cabinet vertical manager enables the physical layer to be implemented in a manner that provides manageability, flexibility and scalability in the data center.