Direct buried fiber optic cable is designed for direct buried installation, buried directly underground without protection. Direct buried fiber optic cable usually with double sheath and Kevlar yarn for protection.This article can help you learn more about direct buried fiber optic cable.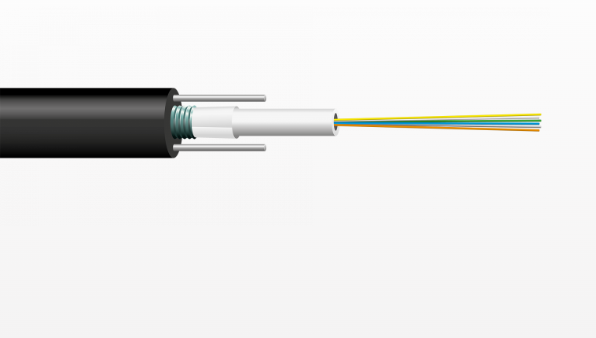 What is Direct Buried Fiber Optic Cable?
Direct buried fiber optic cable is a type of fiber optic cable which is armored with a steel tape or steel wire outside. With the performance of resisting external mechanical damage and soil erosion, it can be buried directly into the ground in a trench or using a vibratory plow. Direct burial is the most convenient laying method for fiber optic cable and also saves duct and aerial installation costs. Generally speaking, direct buried cables provide good mechanical and temperature performance, crush resistance and flexibility for direct buried construction, convenient construction and installation,plastic coated aluminum tape (APL) moisture barrier, plastic-coated steel tape (PSP) enhancing moisture-proof, and water-blocking material for an underground application.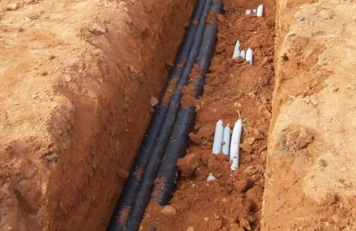 Direct Buried Cable Types
There are several types of direct burial cables available in the market. Some of the most commonly used ones are GYTA53, GYXTW53, and GYFTY53.

GYTA53: GYTA53 fiber optic cable is a double jacket double armored stranded loose tube outdoor cable. The loose tube stranding technology makes the fibers have good secondary excess length and allow the fibers free movement in the tube, which keeps the fiber stress-free while the cable is subjected to longitudinal stress. Corrugated steel tape armored and double polyethylene (PE) sheath provide excellent crush resistance and rodent resistance. Metal strength member provides excellent strain performance. It is suitable for direct buried and duct applications.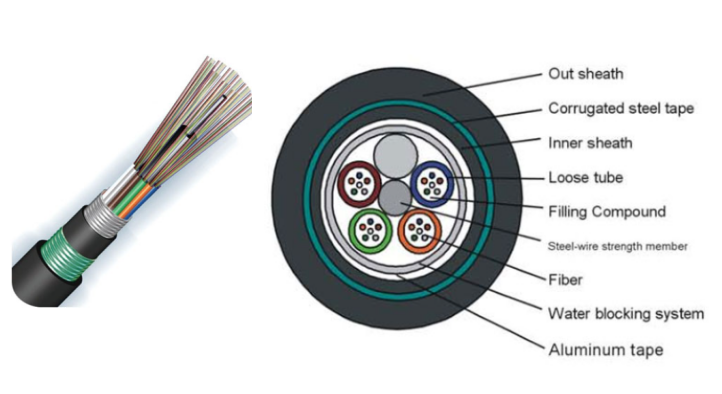 GYXTW53: GYXTW53 is a central loose tube fiber cable with a double steel tape and a double PE jacket. The cable provides a full section water blocking structure that ensures good water and moisture resistance, a loose sleeve filled with special ointment for critical fiber protection, two parallel round wires that resist tension and side pressure, a small outside diameter, lightweight, and excellent bending performance.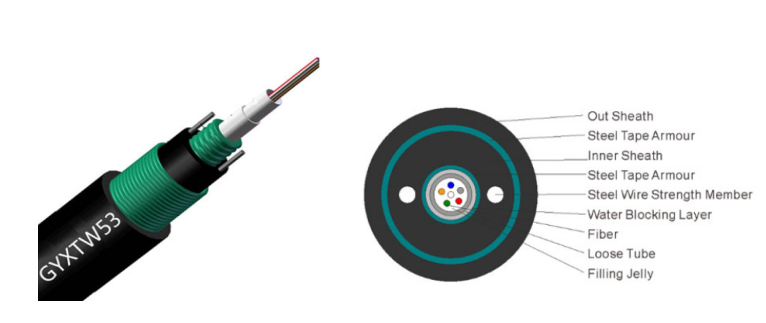 GYFTY53: GYFTY53 is a double sheath outdoor fiber optic cable of non-metallic strength member, loose tube layer stranded filling type, with Polyethylene inner sheath, non-metallic fiber reinforcement, and LSZH outer sheath. The cable provides a full cross-section water-blocking structure to ensure good water-blocking and moisture resistance , loose tube is filled with special ointment for key protection of fiber, glass yarn to ensure the the cable has good tensile properties, and rat-bite prevention, and non-metallic strength member is applicable for multi-thunder area.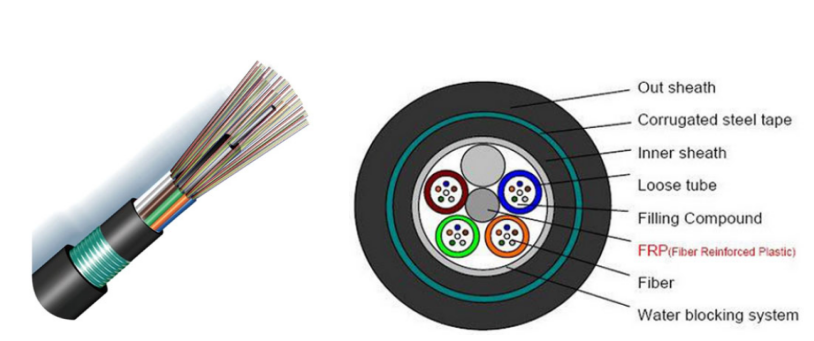 Applications Scenarios
Direct buried cables are widely used in subways, tunnels, long-distance communication,inter-office communication network, core network, metropolitan area network (MAN), local area networks (LAN), access networks outdoors, telecommunication, video, data transmission, CATV,and more.

Conclusion
Direct burial cables do not require any additional protective covers to be buried directly into the ground. They may be exposed to harsh environmental conditions such as changes in temperature and humidity of the soil. Direct buried cable offers the benefits of less frequent replacement and a better chance of maintaining integrity even in the event of a natural disaster.Sun Telecom provides all directly buried cable products and solutions to the global market.