With ever-greater bandwidths and network connections to deal with in data centers, traditional duplex fiber patch cords like LC fiber patch cords no longer meet the demands. To solve this issue, MTP/MPO fiber optic cable that houses more fibers in a multi-fiber MTP/MPO connector was introduced in the market as a practical solution for 40G/100G/400G high-density cabling in data centers. This article will introduce different MTP/MPO cable types and their applications.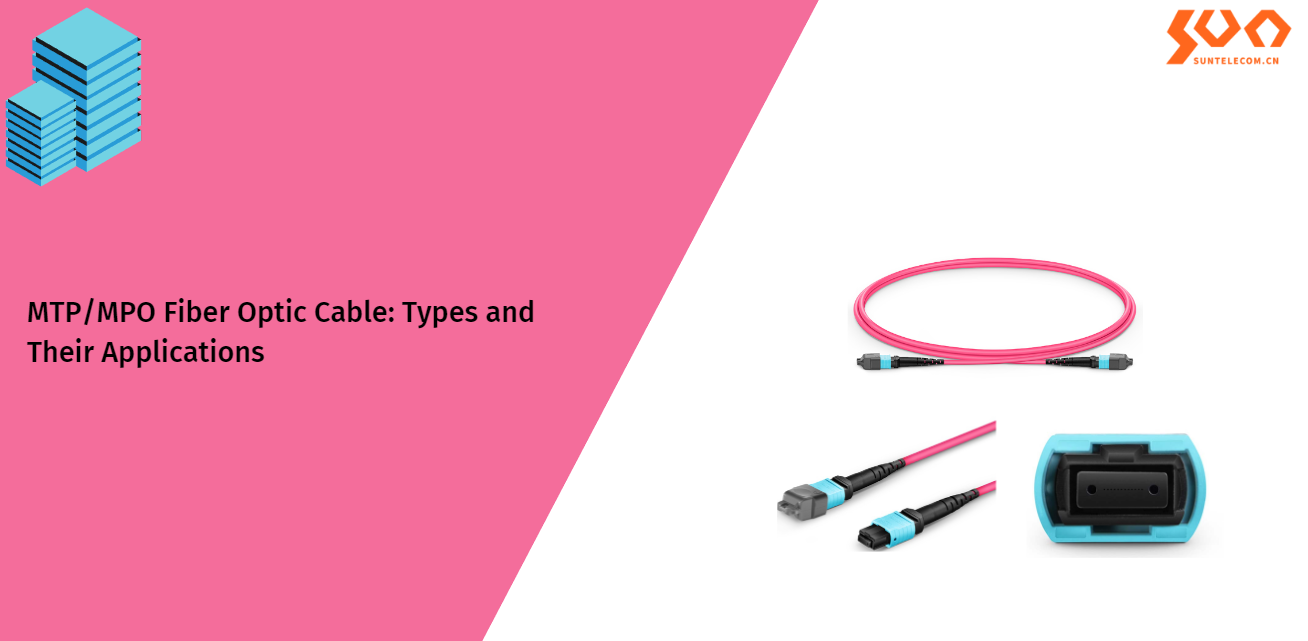 What is MTP/MPO Cable?
MPO (multi-fiber push-on) is the first generation of clip-clamping multi-core fiber optic connectors. MTP is an advanced version of MPO with the better mechanical and optical performance. They look similar and are fully compatible and interchangeable.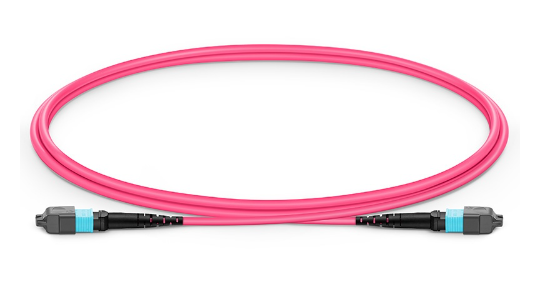 MTP/MPO cable consists of MTP/MPO connector and optical fiber. MTP/MPO connector has a female type (without pins) or a male type (with pins). MTP/MPO connector increases the fiber optic cable density and saves circuit card and rack space, which is well suited for current data center cabling and future network speed upgrades.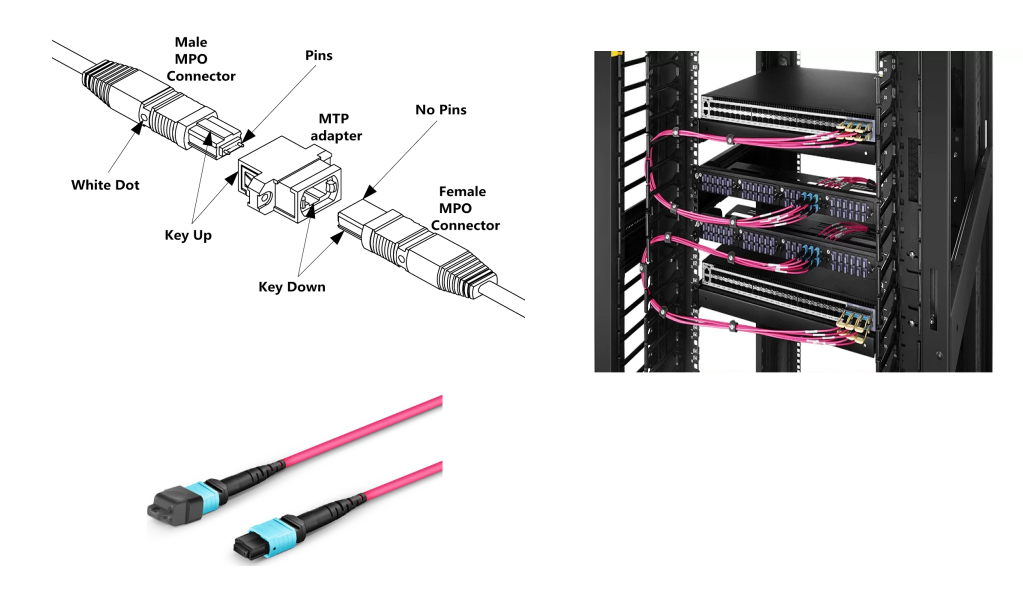 MTP/MPO Cable Types
MTP/MPO cable types are classified based on function, polarity, fiber count, fiber mode, and jacket rating.
By Function
Based on function, MPO/MTP cable type is divided into MTP/MPO trunk cable, MTP/MPO breakout cable, and MTP/MPO conversion cable.
1. MTP/MPO Trunk Cable
MTP/MPO trunk cable is terminated with an MTP/MPO connector (female/male) on both ends, which is available in 8-144 fiber counts for users' choices. Typically, MTP/MPO trunk cable is ideal for creating a structured cabling system, including backbone and horizontal interconnections such as 40G-40G and 100G-100G direct connections.



2. MTP/MPO Breakout Cable
MTP/MPO breakout cable (aka. harness cable or fanout cable) is terminated with a female/male MTP/MPO connector on one end and 4/6/8/12 duplex LC/FC/SC/ST connectors on the other end, such as 8-fiber MTP/MPO to 4 LC harness cables and 12-fiber MTP/MPO to 6 LC harness cables. Typically, MTP/MPO breakout cable is ideal for short-range 10G-40G and 25G-100G direct connections or for connecting backbone assemblies to a rack system in the high-density backbone cabling.



3. MTP/MPO Conversion Cable
MTP/MPO conversion cable has the same fanout design as MTP/MPO breakout cable but is different in fiber counts and types. MTP/MPO conversion cable is terminated with MTP/MPO connectors on both ends. MTP/MPO conversion cable is available in 24-fiber to 2×12-fiber, 24-fiber to 3×8-fiber, and 2×12-fiber to 3×8-fiber types, and is ideal for 10G-40G, 40G-40G, 40G-100G, and 40G-120G connections, which eliminate fiber wasting and largely increase the flexibility of the MTP/MPO cabling system.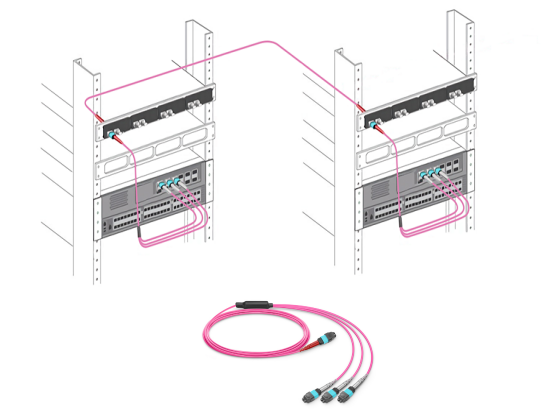 By Polarity
Polarity refers to the difference between the optical transmitters and receivers at both ends of the fiber link. Due to the special design of MTP/MPO connectors, polarity issues must be addressed in high-density MTP/MPO cabling systems. To guarantee the correct polarity of the optical path, the TIA 568 standard defines three connection methods, called Type A, Type B, and Type C. The cables of the three MTP/MPO connector types have different structures.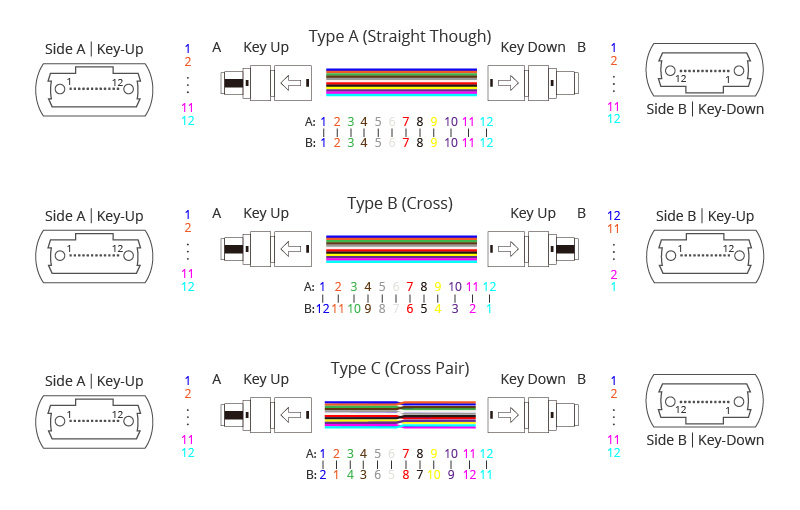 By Fiber Count
Based on fiber count, MTP/MPO cable type is divided into 8/12/16/24 fiber. The 8-fiber MTP/MPO cable can transmit the same data rate as 12-fiber, but with lower cost and insertion loss, making it a more cost-effective solution. 12-fiber MTP/MPO cable is the earliest developed and most commonly used solution in 10G-40G and 40G-100G connections. If it is used in 40G QSFP+ or 100G QSFP28 transceivers, 4 fibers will be idle, resulting in low fiber utilization.16-fiber MTP/MPO is designed for 800G QSFP-DD/OSFP DR8 and 800G OSFP XDR8 optics direct connection and supporting 800G transmission for hyperscale data center. 24-fiber fiber MTP/MPO cable is used to establish a 100GBASE-SR10 connection or 400G connection between CFP and CFP transceivers.



By Fiber Mode
Based on fiber mode, MTP/MPO cable includes single-mode (SM) and multi-mode (MM). SM MTP/MPO cable is suitable for long-distance transmissions, such as in metropolitan area networks (MANs) and passive optical networks PONs (PONs), with less modal dispersion, and it is available in OS2 type. While MM MTP/MPO cable is suitable for short-distance transmission, allowing 40 Git/s maximum transmission distance of 100m or 150m, and it is available in OM3/OM4 types.



By Jacket Rating
According to different fire rating requirements, the jackets of MTP/MPO cable types are divided into low smoke zero halogen (LSZH), optical fiber non-conductive plenum (OFNP), communications multipurpose cable plenum (CMP), etc. LSZH MTP/MPO cable is free of halogenated materials (toxic and corrosive during combustion), provides better protection for personnel and equipment in a fire, and is suitable for closed places. OFNP MTP/MPO cable contains no electrically conductive elements and is designed with the highest fire rating, which can be installed in ducts, plenums, and other spaces for building airflow. CMP MTP/MPO cable can restrict flame propagation and smoke exhaust rate during a fire, which is suitable for plenum spaces, where air circulation for heating and air conditioning systems are facilitated.

Conclusion
MTP/MPO cables provide stable transmission, high performance, high-density cabling for various environments, and prevent network bottlenecks, reduce network latency, and expand bandwidth and scalability for future network expansion. Sun Telecom provides total and customized solutions of fiber optic products to the global market. Contact us if you have any needs.